RESEARCH REPORT
The Future of Remote Work and Software Development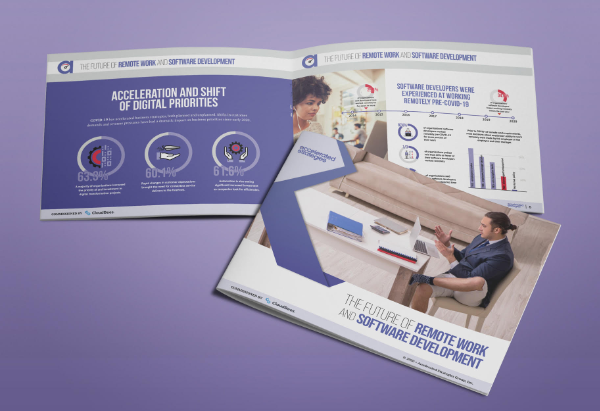 SINCE THE IMPACT OF COVID-19 IN EARLY 2020:
52% – INCREASED ACCELERATION TO THE CLOUD
46% – EXPANDED CROSS-FUNCTIONAL TEAMS
59% – DEVELOPERS ARE MORE PRODUCTIVE
64% – PLAN TO WORK REMOTE  3+ DAYS / WEEK
Research based upon 347 responses across 23 countries / regions, 20 industry verticals, small-to-large organizations, in individual contributors and leadership roles.
Under less-than-optimal conditions, organizations rose to the challenge to rapidly support remote work due to COVID-19.
This research set out to answer three important questions:
Were software teams in the organization working remotely prior to COVID-19 restrictions?
Have the use and importance of remote work tools and applications changed since COVID-19 restrictions were implemented?
In what ways has COVID-19 informed and changed organizations' ability to create software?
Authored by Mitch Ashley and Frank Ohlhorst. Commissioned by CloudBees.
SHIFT IN DIGITAL PRIORITIES
BROADENING DEVOPS ADOPTION